Antshape

130 Energy

Arcane Conjuration
Self

Range:

25

Cast:

2.0

Refresh:

5:00

Level:

14

Transforms you into an ant that is invisible to your opponents for 3 minutes.
Antshape is a Druidic self buff that renders you invisible to other creatures for some time.
The spell causes your character to appear as a tiny translucent ant.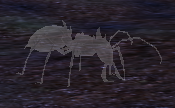 Ad blocker interference detected!
Wikia is a free-to-use site that makes money from advertising. We have a modified experience for viewers using ad blockers

Wikia is not accessible if you've made further modifications. Remove the custom ad blocker rule(s) and the page will load as expected.