Objective
Edit
Place the First Seal
Place the Second Seal
Place the Third Seal
Place the Fourth Seal
Halt suspected Cartheon activities in the New Targonor vicinity by crafting the seals and placing them around the city. Return to Ashlyn when finished.
Banishment Seal (Refining, Special, B Grade)
Locations
Edit
First Seal Location
Second Seal Location
Third Seal Location
Fourth Seal Location
Banishers Sanctuary
Material's Ring (Ring, +8 Crafting Utility Use, 10, 15, Activate to summon random resource)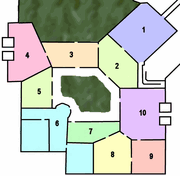 First - In the Lamplighter district (2 on the map), in a chest near a two-tied rack with books and a cloak on a holder. If facing the statue the back of the statue, it is a short distance to the right.
Second - In the Adventurer's Terrace district (1 on the map), in three barrels under a tent behind the Monk Instructor.
Third - At the east exit of the crafting area, (10 on map) in a small vase behind a stack of barrels.
Fourth - A large box behind a tree in the Foreign Goods market (8 on map) by the northeast exit behind Guard Mina.
Ad blocker interference detected!
Wikia is a free-to-use site that makes money from advertising. We have a modified experience for viewers using ad blockers

Wikia is not accessible if you've made further modifications. Remove the custom ad blocker rule(s) and the page will load as expected.