Objective
Edit
Help the Banishers Destroy Jhan and Her Minions.
Speak to Ashlyn Blackshield about the growing threat of the Order of the Mythos. Follow her instructions carefully to investigate the Order of the Mythos and their current activities.
Choice of: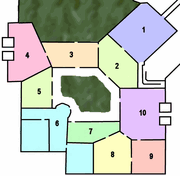 Go to the Mythos Hideout location in your journal (-40525, 23817, 36494 in
New Targonor
, Lamplighter's District). It's just around the corner on the right from the northeast gate to the New Targonor crafting area.
You will find a Cartheon Knight behind you next to the building. Killing it is not required.
Ad blocker interference detected!
Wikia is a free-to-use site that makes money from advertising. We have a modified experience for viewers using ad blockers

Wikia is not accessible if you've made further modifications. Remove the custom ad blocker rule(s) and the page will load as expected.