Objective
Edit
Malfunctioning X-77 Slain
Find and slay the Malfunctioning X-77 experimental prototype warehouse guardian. Report success to Professor Telpon, who is stationed deeper in the warehouse.
Locations
Edit
Memory Crystal x 20 (Quest, Requires 50 crystals: Right-click this item to convert it into a box of membory crystals).
Starting Dialogue
Edit
Additional Dialogue
Edit
Concluding Dialogue
Edit
Detailed Information
Edit
Professor Telpon is located at /loc 6732, 1198, -43035 in gnome city.
The X-77 is located in the Upper Entrance wing of APW.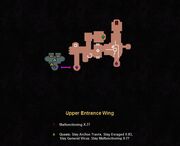 Strategy:
MT will run in and face mob away from raid...Every 20% mob will blow up ... if you value your HP hide behind one of the columns...At 50 we will need someone to rescue cause the mob with switch aggro...other than that BURN
Screenshots
Edit
Known Issues
Edit
Ad blocker interference detected!
Wikia is a free-to-use site that makes money from advertising. We have a modified experience for viewers using ad blockers

Wikia is not accessible if you've made further modifications. Remove the custom ad blocker rule(s) and the page will load as expected.