Objective
Edit
Find and slay the undead leader, Archon Travix. Report success to Professor Telpon, who is stationed deeper in the warehouse.
Locations
Edit
Memory Crystal x 20 (Quest: Requires 50 crystals: Right click this item to convert it into a box of memory crystals.)
Starting Dialogue
Edit
Additional Dialogue
Edit
Concluding Dialogue
Edit
Detailed Information
Edit
Professor Telpon is located at /loc 6732, 1198, -43035 in Gnome City.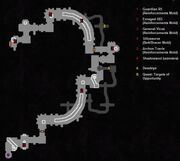 Archon Travix is located in the lower entrance wing.
Screenshots
Edit
Known Issues
Edit
Ad blocker interference detected!
Wikia is a free-to-use site that makes money from advertising. We have a modified experience for viewers using ad blockers

Wikia is not accessible if you've made further modifications. Remove the custom ad blocker rule(s) and the page will load as expected.