Back to NPCs
Name
Nerail Tharazen
Descriptor
None
Adventure Level
30
Gender
Male
Race
Dark Elf
Continent
Qalia
Chunk
Lomshir
Town
Shadow's Edge
Area
Southwest of Lomshir
Location
-80502, 84197, 17153
Civic Diplomacy
No
Regional Trader
No
Starts Quests
Edit
Adventuring
Edit
Ends Quests
Edit
Adventuring
Edit
Civic Diplomacy
Edit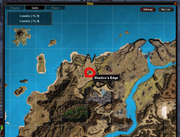 This NPC is important for those doing the shadowhound quest line. He is located in the very southwest corner of the "map square" that the city of lomshir is located in, which is along the top coastline area of qalia. He is very close to the player housing area.
Ad blocker interference detected!
Wikia is a free-to-use site that makes money from advertising. We have a modified experience for viewers using ad blockers

Wikia is not accessible if you've made further modifications. Remove the custom ad blocker rule(s) and the page will load as expected.