Objective
Edit
Young Dracosnap Tongue (6)
Shambling Shell Pieces (4)
Adrin Leaves (3)
Gather the required Young Dracosnap Tongues, Shambling Shell Pieces, and Adrin Leaves frm the coast, then bring them back to Praajda Grierhi in Lomshir so that she can concoct a potion.
Locations
Edit
Starting Dialogue
Edit
Additional Dialogue
Edit
Concluding Dialogue
Edit
Detailed Information
Edit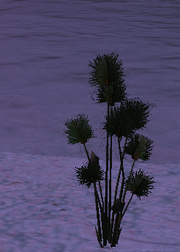 Head to the coast (northeast) and kill
Young Dracosnap
and
Shambling Shell
. The leaves are obtained from the clickable Adrin plants.
Screenshots
Edit
Known Issues
Edit
Ad blocker interference detected!
Wikia is a free-to-use site that makes money from advertising. We have a modified experience for viewers using ad blockers

Wikia is not accessible if you've made further modifications. Remove the custom ad blocker rule(s) and the page will load as expected.